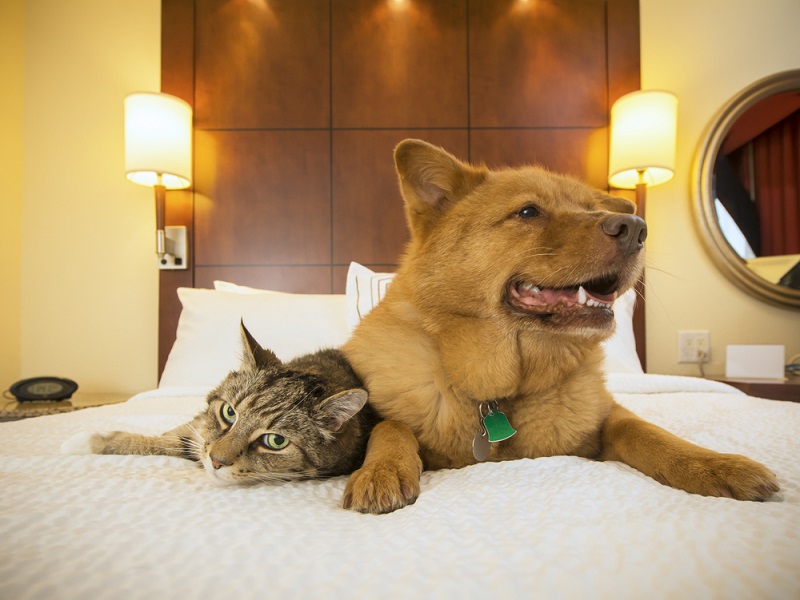 Dog and Cat Boarding
Our boarding provides a place for your pet to stay while you are away on vacation or for work and since we understand that sometimes being away from home may cause your pet to feel uneasy and out of routine, so we would like to make sure that your pet feels comfortable and at home while under our care. Boarding for dogs who will either be within our social setting or not interacting with others will require to go through an application, interview, and daycare process. Those interested in boarding their cats will be required to fill out an application. Proof of vaccinations must be present with application.
Boarding rates are determined by 24 hour stay, holidays and summertime. Late pickups will be charged with daycare.
Regular boarding prices: $60 for 1st dog, $45 each additional
Cat boarding prices: $30 for 1st cat, $25 each additional
Drop-Off Hours For Boarding Only
7:00am – 6:00pm Monday through Friday
8:00am – 11:00am Saturday
8:00am – 11:00am Sunday
Evening drop-offs on weekends are by appointment only
Feeding
We proudly serve Nature's Select Super Premium Pet Foods to our guests.
$3 per Meal
If you prefer to furnish your own food, we'll gladly accomodate your pets need at no additional charge. All dry food must be in a sealed plastic container. Daycare dogs are not fed during the day. Make sure to feed daycare dogs before and after daycare.
Medications
We take your pets health seriously. Therefore there is no additional charge for oral doses to your pet.
Get Started
Pets must be pre-qualified. Follow these simple steps to get started…
Complete application (download or complete online)
Submit current vaccination records and spay/neuter certificate. Bordatella vaccination is required every 6 months.
Schedule interview (dogs only)
Dog boarding: To help your dog adapt to our Hotel, we require two daycare sessions before initial boarding appointment.